2022 IMPAACT Network Hybrid Annual Meeting
28 June - 1 July 2022
The 2022 IMPAACT Annual Meeting will take place as a hybrid conference to include both virtual and in-person participation from 28 June - 1 July 2022. The in-person component will be hosted at the Washington Hilton Hotel in Washington, D.C., USA.
Are you planning to attend in person or virtually?
For planning purposes and to help you make an informed decision regarding whether to attend virtually or in-person, please review the following information regarding COVID-19 protocols that are currently in place. These protocols are subject to change based on updated U.S. federal or local guidelines. As the epidemiology of the pandemic changes, we may adjust these instructions.

Any travel-related testing and quarantine requirements are the responsibility of participants. All relevant travel requirements/restrictions (e.g., for airlines, entry into the US and Washington, D.C.) should be confirmed in advance. Travelers, particularly those traveling internationally, should also consider requirements for returning, including any potential quarantine requirements upon return as well as any required tests needed prior to departure. Travelers should also consider any requirements or liabilities related to canceled flights, and possible COVID-19 exposures or diagnoses (e.g., testing and isolation requirements) if choosing to join in-person.
Vaccine Requirements and Guidance:
All in-person attendees must be up to date with COVID-19 vaccinations. This includes the primary series plus a booster dose for those in the U.S. and for attendees from outside of the U.S. where available. CDC guideline links are below:
For in-person attendees, proof of vaccination must be submitted during the online registration process and when checking into the meeting.
Any travel-related testing and quarantine requirements are the responsibility of attendees and reimbursable through your funding institution. Check with your insurance provider (medical or travel) that you are covered if you get sick during the meeting.
To view the Washington Hilton COVID-19 safety updates visit Hilton Clean Stay.
COVID-19 Vaccination records must be uploaded during registration for in-person attendees. Records will be deleted within one month after the meeting. For more information, please see our data privacy notice.
Meeting Practices to Provide a Safe Environment for In-Person Attendees: Face Masks, Social Distancing, and Testing
We will do our best to use large hotel meeting rooms that allow for ample spacing between attendees.
Face masks must be worn at all times within all indoor meeting spaces and meeting rooms. Cloth masks will not be permitted. We will have a limited number of masks available; however, please also bring your own mask (e.g., N95, KN95, KN94, or surgical masks).
Attendees should test the day before arriving at the Washington Hilton Hotel.
Attendees should test daily in their hotel rooms before joining the meeting. Attendees will receive COVID-19 rapid tests to perform daily testing. A designated testing space will also be available at the Washington Hilton Hotel for attendees not staying at the hotel.
Consider your health status before traveling and each day prior to joining the meeting.
------------------------
As in past years, we anticipate that the meeting will include:
Plenaries, highlighting key research and updates from the Network 
Protocol team and scientific committee meetings  
Information meetings with updates from the Operations Center, Laboratory Center, and Data Management Center 
Q&A and other interactive, discussion-focused sessions  
The intended audience for the 2022 IMPAACT Annual Meeting includes all IMPAACT members and collaborators, for example: 
Research site staff, including site investigators of record or designees, community representatives and educators, coordinators, counselors and recruiters, data staff, clinical staff, laboratory staff, and/or pharmacy staff 
Protocol team members, including chairs, vice chairs, and other investigators 
LOC, SDMC, LC and NIH staff
Scientific committee, oversight, and other Network group members 
Other researchers in HIV treatment and prevention 
Please continue to check this page for ongoing updates about the Annual Meeting.
Visa Letter
2022 IMPAACT Annual Meeting Visa Letter Request Form
Meeting Hotel
1919 Connecticut Ave., NW
Washington, District of Columbia 20009, USA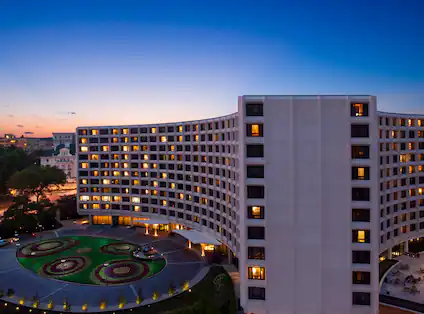 To Book The Washington Hilton
Cut-off date: June 1, 2022
Rate: $258 per night
Rooms are available at the Washington Hilton Tuesday-Friday but has sold out Monday night. Overflow rooms for Monday night are now available at The Churchill and the Generator hotels conveniently located across the street from the Washington Hilton.
To Book The Churchill
The Churchill Hotel near Embassy Row
Cut-off date: May 27, 2022
Rate: $258 per night
Address: 1914 Connecticut Avenue NW, Washington, DC, 20009
Rooms available all week.
To Book the Generator
Cut-off date: June 9, 2022
Rate: $258 per night
Address: 1900 Connecticut Avenue NW, Washington, DC, 20009
Rooms only available Monday night.
---
Past Meeting Presentations