Dr. Jyoti Mathad is an Assistant Professor of Medicine in the Center for Global Health and Division of General Internal Medicine, as well as the Department of Obstetrics and Gynecology, at Weill Cornell Medical College. She has been a mentored investigator in the IMPAACT Network's TB Scientific Committee and recently graduated from that role. She is the protocol chair for IMPAACT 2001.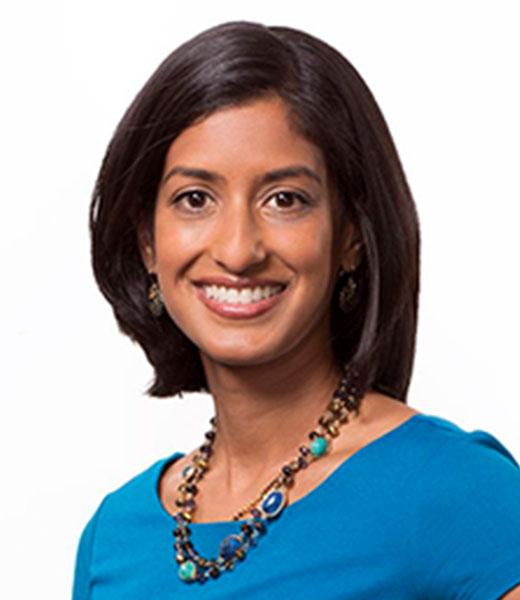 Jyoti Mathad, MD, MS
What have you most enjoyed about working with the IMPAACT Network?
The formal and informal mentorship through the IMPAACT Network has been incredible. I have learned so much about how to get a protocol off the ground and completed, as well as how to be a strong leader and advocate for maternal TB research. I love being able to interact with talented clinicians from around the world who agree that we need to protect pregnant women through research and not from it.
IMPAACT 2001 was the first study where you served as a protocol chair. Tell us how it felt to have primary results selected for a press conference at CROI 2020.
The whole experience has been kind of surreal. I remember working with Amita Gupta, Kelly Dooley, and Rada Savic on this concept when I was still a third-year fellow in Infectious Diseases. There are so many people that joined the team along the way and really helped this study happen and efficiently too! I am so proud that this study was selected for a press conference at CROI 2020, not only because the team put in so much hard work to get this done, but also because these results help fill a major gap in our knowledge of how to prevent TB in pregnant women and their infants.
Based on the research you've conducted and seen, what do you think (or hope) research and data from the next several years will show us in terms of the effects of TB and current TB regimens on pregnancy outcomes?
I think that data from our study and TB-APPRISE has awakened the TB community to the pressing dilemmas facing pregnant women in TB-endemic countries and their physicians. It is extremely difficult to make clinical decisions in the absence of data. We are seeing that play out with the SARS-CoV-2 pandemic right now. But TB is not a new infection so we should have better answers and guidance for pregnant women. Innovative study designs, like what we used in IMPAACT 2001, can be used as a model of how to account for the effects of stages of pregnancy on drug metabolism, for example. I am also hopeful that future TB drug trials, for prevention or treatment, will be more thoughtful about including pregnant women instead of the status quo of systematically excluding them. Enrolling pregnant women after an interim safety analysis has been done in non-pregnant participants should become more of the norm.
What do you feel are the most important research questions or TB drugs to further evaluate in pregnant and postpartum women?
I think we still do not know the best regimen to give pregnant women to prevent TB. IMPAACT 2001 showed us that the usual dose of 900mg INH and 900 mg RPT weekly is probably the right dose and there were no major safety signals. But we were not powered for safety. As we know from TB-APPRISE, you need a study powered for safety to pick up some of these more subtle safety signals in pregnancy. I think a safety study of 3HP and 1HP would be the next logical step.
We also must prioritize creating guidelines for the management of drug-resistant TB in pregnancy. This is something that urgently needs to be addressed as some physicians recommend terminating the pregnancy while there are case reports of women who have successfully been treated for MDR and even XDR TB during pregnancy. We need cohesive guidelines to prevent a woman's outcome from being determined simply by who her doctor is.
What has been the most defining experience so far in your career?
The IMPAACT 2001 study started around the same time that we received an NIH-funded R01 grant to study the immune changes of pregnancy and TB in India. The combination of these two events has really helped me create an expertise in maternal health and TB, including basic/translational understanding of the pathophysiology to designing and conducting clinical trials. Neither of these studies would have been possible without my incredibly supportive and tireless mentor, Amita Gupta. So, maybe meeting Amita is the most defining experience of my career!
What do you enjoy doing when you're not working?
In the pre-COVID era, I enjoyed traveling, reading international historical fiction, and running. Now I really cherish any face time I can get with my family and friends through various online platforms. I have also enjoyed spending more time with my daughter, as she inspires me to rediscover old hobbies (e.g. drawing, making jewelry) and develop new ones, like cooking and dancing. Our favorite things to do together are household science experiments and logic puzzles.