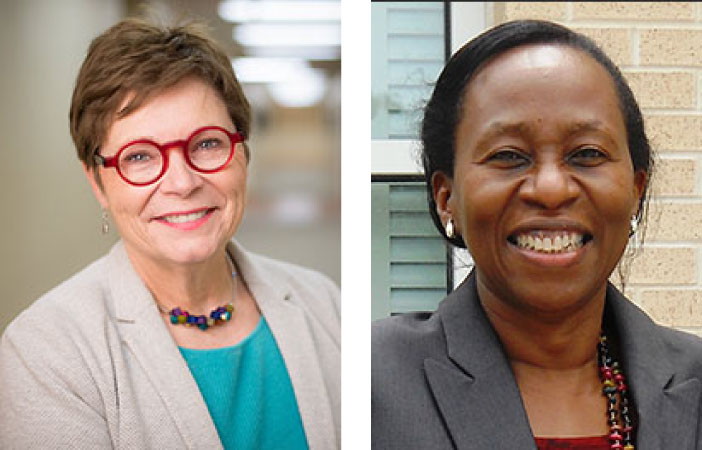 Pat Flynn and Philippa Musoke
Pat Flynn is the domestic vice chair for the IMPAACT Network as of December 2020. 
Philippa Musoke is the international vice chair for the IMPAACT Network as of December 2020.
>> Read More
Suzen Maonera
Suzen Maonera has been an IMPAACT Network CRS Coordinator for 16 years. She assesses site capacity for upcoming protocols, identifying necessary facility upgrades and personnel training needs, and oversees the crafting of recruitment and retention strategies. She also monitors data performance and departures from protocols, identifying root cause of errors and institutes remedial action. Finally, Suzen oversees protocol document translation to local languages.
>> Read More
Jayda Arrington
Jayda Arrington is the IMPAACT Community Advisory Board (ICAB) representative for the University of California, Los Angeles (UCLA) IMPAACT site and has been part of the UCLA CAB for four years. She has an associate degree in paralegal studies and is currently working toward her bachelor's degree in psychology with a minor in Africana Studies at California State University Dominguez-Hills. Her goal is to become a case manager and social and human service assistant to help people affected by HIV/AIDS.
>> Read More
Dr. Jyoti Mathad
Dr. Jyoti Mathad is an Assistant Professor of Medicine in the Center for Global Health and Division of General Internal Medicine, as well as the Department of Obstetrics and Gynecology, at Weill Cornell Medical College. She has been a mentored investigator in the IMPAACT Network's TB Scientific Committee and recently graduated from that role. She is the protocol chair for IMPAACT 2001.
>> Read More
Dr. Lee Fairlie
Dr. Lee Fairlie is the Director of Maternal and Child Health at Wits RHI and has worked as a pediatrician in the HIV and infectious diseases (specifically TB) field since 2006. She is a member of the IMPAACT Treatment Scientific Committee and is part of the P1090 and IMPAACT 2010/VESTED protocol teams. She is also the Wits RHI Shandukani CRS Leader and co-chair of MTN 042/DELIVER.
>> Read More
More spotlights coming soon!