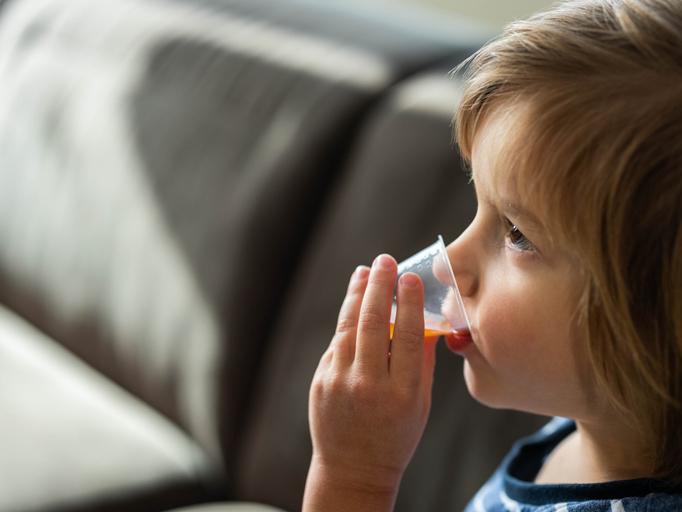 Child taking medicine / Getty Images
IMPAACT 2019 
IMPAACT 2019 is a Phase I/II open-label, multicenter, multiple dose study of abacavir/dolutegravir/lamivudine fixed dose combination tablets in treatment-experienced and treatment-naïve children living with HIV who are less than 12 years old. The study is taking place in Botswana, South Africa, Thailand, and the United States. 
IMPAACT 2019 is designed to compare the pharmacokinetic exposure of dolutegravir, as contained in two formulations of abacavir/dolutegravir/lamivudine tablets, to exposures shown to be efficacious in adults. One formulation is the immediate release tablet currently approved for adolescents and adults (Triumeq®). The other formulation is a dispersible tablet. The study is also evaluating the safety and tolerability of these formulations for children. 
Findings presented at the HIV Pediatrics Workshop and IAS 2021 were based on data collected through the first four weeks on-study among 21 children enrolled in three weight bands (14 to less than 20 kg, 20 to less than 25 kg, 25 kg or greater). Results are described below. 
 
Study Results 
The dose of abacavir/dolutegravir/lamivudine provided in each weight band was confirmed. Findings through the first four weeks on-study showed that: 
Children are able to take the abacavir/dolutegravir/lamivudine formulations being studied.
The abacavir/dolutegravir/lamivudine formulations are safe and well-tolerated in children.
The abacavir/dolutegravir/lamivudine formulations achieve targeted pharmacokinetic exposures in children.  
More than 50 children have now been enrolled in IMPAACT 2019, including children weighing less than 14 kg, and the study will continue to examine the safety, pharmacokinetics, and effectiveness of abacavir/dolutegravir/lamivudine in all children through 48 weeks of treatment. Current findings are expected to support global efforts to expand the availability of pediatric-friendly dolutegravir-containing treatment.