Back to News
IMPAACT Social Behavioral Scientific Core at the 2022 International SBCC Summit
Clinical Research Quality Manager and SBSC Member Jen Libous, MS, CCRP, presented on behalf of the IMPAACT Social Behavioral Scientific Core at the International Social and Behavior Change Communication Summit in Marrakech, Morocco. The summit focuses on the strategic use of communication to inspire social and behavior change to improve lives around the world.
Intertwining Social and Behavioral Sciences within IMPAACT's HIV treatment and prevention and clinical research initiatives
In January 2019, the Social Behavioral Sciences Core (SBSC) within the International Maternal Pediatric Adolescent AIDS Clinical Trials (IMPAACT) Network was formed. SBSC members' backgrounds vary, though all are versed in the conduct of multi-site clinical trials (CTs) with expertise spanning HIV prevention and care, retention, community engagement, adherence, management, and aspects of social determinants of outcomes in CTs. From inception, the SBSC has established and promoted interdisciplinary connections within the IMPAACT Network. These endeavors were accomplished through engagement in IMPAACT Network collaborations with social scientists, epidemiologists, social behavioral sciences (SBS) advocates, and HIV specialists within IMPAACT by proposal reviews, consultations on SBS study design and measurement development; and internship support to create SBS resources. 
This poster describes how the SBSC collaboration model is used to conduct SBS-focused reviews of research proposals, provide input to the Network's leadership proposal approvals, and deliver ad hoc consultations for study teams on protocols in development. It also describes how the collaborative approach influences processes and outcomes at a micro-and macro-level, as well as how the SBSC furthers growth and continued collaboration to promote engagement, communication, and advancement among SBS in IMPAACT clinical research prioritizing participant preferences, behaviors, and attitudes towards influencing successful care.
Click here to learn more about the IMPAACT Social Behavioral Scientific Core.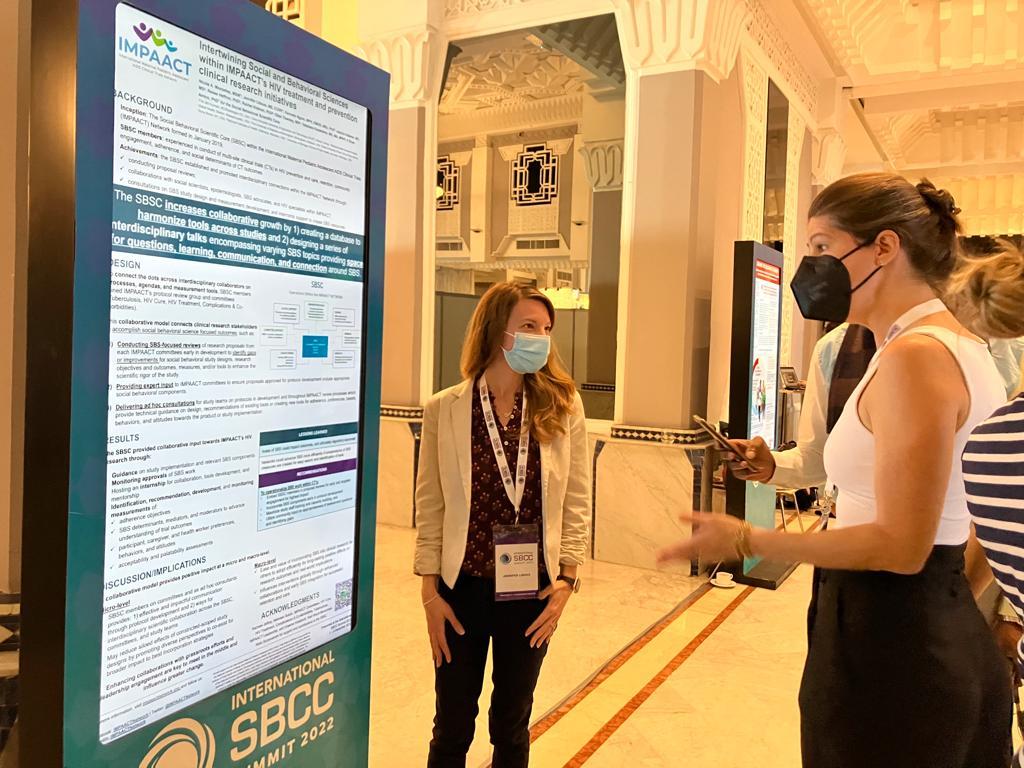 Jen Libous presenting at the 2022 International SBCC Summit in Marrakech, Morocco.