IMPAACT at HIV Pediatric Workshop and IAS 2021
The IMPAACT Network presented research in two oral presentations, one guided poster presentation, and two poster presentations at the International Workshop on HIV Pediatrics 2021 and three e-poster presentations IAS 2021.
The Workshop was held virtually from 16-17 July, and IAS took place virtually 18-21 July, with a partner hub in Berlin, Germany.
See below for full abstract listing.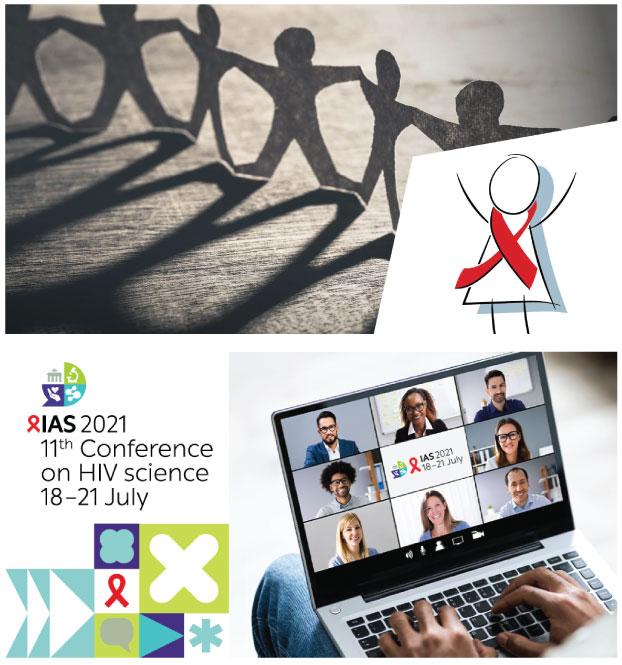 Graphics courtesy of the International Workshop on HIV Pediatrics 2021 and IAS 2021
Accepted Abstracts for International Workshop on HIV Pediatrics 2021 
Friday 16 July 2021
Protocol

Title

Authors

Presentation Type

IMPAACT 2019

Pharmacokinetics and Safety of Dispersible and Immediate Release FDC Abacavir/ Dolutegravir/ Lamivudine in Children with HIV Weighing ≥14 kg: Preliminary Results from IMPAACT 2019

Brooks KM, Kiser JJ, Samson P, Rani Y, Ward S, Cressey TR, Cassim H, Deville JG, Masheto GR, Ponatshego PL, Coletti A, Lypen K, Mustich I, Heckman B, Lojacono M, Bowman R, Yin D, Townley E, Majji S, Acosta EP, Buchanan AM, Brothers CH, Chandasana H, Rabie H, Flynn P, on behalf of the IMPAACT 2019 Team

Abstract Session 1 – Pediatric Treatment, 11:15 am CEST

Oral Presentation

IMPAACT 2010

Bone Mineral Density/Content of Postpartum Mothers Taking Treatment including DTG vs EFV, TDF vs TAF in Pregnancy and Their Infants: Randomized IMPAACT 2010 Trial

Mbengeranwa T, Ziemba L, Brummel S, Johnston B, Cassim H, Theron G, Ngqawana Z, Wabwire D, McCarthy K, Chakhtoura N, Jean-Philippe P, Shepherd J, Lockman S, Chinula L, Stranix-Chibanda L, for the IMPAACT 2010/VESTED study team and investigators

Abstract Session 2 – Complications of Pediatric or Maternal ART,

11:15 am CEST

Oral Presentation

IMPAACT P1078

Prevalence of Depression among Postpartum Women on Isoniazid-Preventive Therapy and Efavirenz-based Treatment for HIV—An Exploratory Objective of the IMPAACT P1078 Randomized Trial

Mandima P, Baltrusaitis K, Montepiedra G, Aaron L, Mathad J, Onyango-Makumbi C, Nyati M, Ngocho J, Chareka G, Ponatshego P, Masheto G, McCarthy K, Jean-Phillippe P, Gupta A, Stranix-Chibanda L, for the IMPAACT P1078 study team

Guided Poster Tour 2 – Pregnancy and HIV,

1:50 pm CEST

Poster Presentation
Poster Viewing Sessions
Protocol

Title

Authors

Presentation Type

IMPAACT P1106/P1041

Abacavir Weight-Band Dosing for Infants in the First 4 Weeks of Life (Poster)

Bekker A, Capparelli EV, Violari A, Cotton MF, Mathiba R, Wiznia A, Browning R, Moye J, Graham B, Decloedt E, Rabie H, Mirochnick M, Cressey TR, for the IMPAACT P1106 team

Poster Presentation

P1078
The Effect of HIV and Latent Tuberculosis Infection During Pregnancy on Infant Immune Development

Shankwitz K, de Armas L, Kizhner A, Pallikkuth S, Pahwa R, Montepiedra G, Pinilla M, Mathad J, Gupta A, Pahwa S

Poster Presentation
Accepted Abstracts for IAS 2021
| Protocol | Title | Authors | Presentation Type |
| --- | --- | --- | --- |
| PROMISE 1077BF | Self-Reported Antiretroviral Adherence: Association with Maternal Viral Load Suppression in HIV-1-Infected Postpartum Women in Promoting Maternal and Infant Survival Everywhere (PROMISE): Randomized, Open Label Trial in Sub-Saharan Africa and India | Nevrekar N, Butler K, Shapiro DE, Atuhaire P, Taha TE, Makanani B, Chinula L, Owor M, Moodley D, Chipato T, Flynn P, Currier J, Fowler MG, Gupta A, Suryavanshi N | e-Poster |
| IMPAACT P1078 | Prevalence of Depression among Postpartum Women on Isoniazid-Preventive Therapy and Efavirenz-based Treatment for HIV—An Exploratory Objective of the IMPAACT P1078 Randomized Trial | Baltrusaitis K, Stranix-Chibanda L, Montepiedra G, Aaron L, Mathad J, Onyango C, Mandima P, Nyati M, Ngocho J, Chareka G, Ponatshego P, Masheto G, McCarthy K, Jean-Phillippe P, Gupta A, for the IMPAACT P1078 study team | e-Poster |
| IMPAACT 2019 | Pharmacokinetics and Safety of Dispersible and Immediate Release FDC Abacavir/ Dolutegravir/ Lamivudine in Children with HIV Weighing ≥14 kg: Preliminary Results from IMPAACT 2019 | Brooks KM, Kiser JJ, Samson P, Rani Y, Ward S, Cressey TR, Cassim H, Deville JG, Masheto GR, Ponatshego PL, Coletti A, Lypen K, Mustich I, Heckman B, Lojacono M, Bowman R, Yin D, Townley E, Majji S, Acosta EP, Buchanan AM, Brothers CH, Chandasana H, Rabie H, Flynn P, on behalf of the IMPAACT 2019 Team | e-Poster |